Kroger is having some great sales this week, through August 21, as part of a promotion called "Add Up the Savings." When you buy eight of the qualifying items, you get an extra $4.00 off your total. While many of the items are things I just wouldn't buy (various processed foods), there are a handful of organic/natural products as part of the promotion, as well as practical things like toilet paper and tissue. Today when I did my shopping, I got some really good deals, combining this sale with coupons.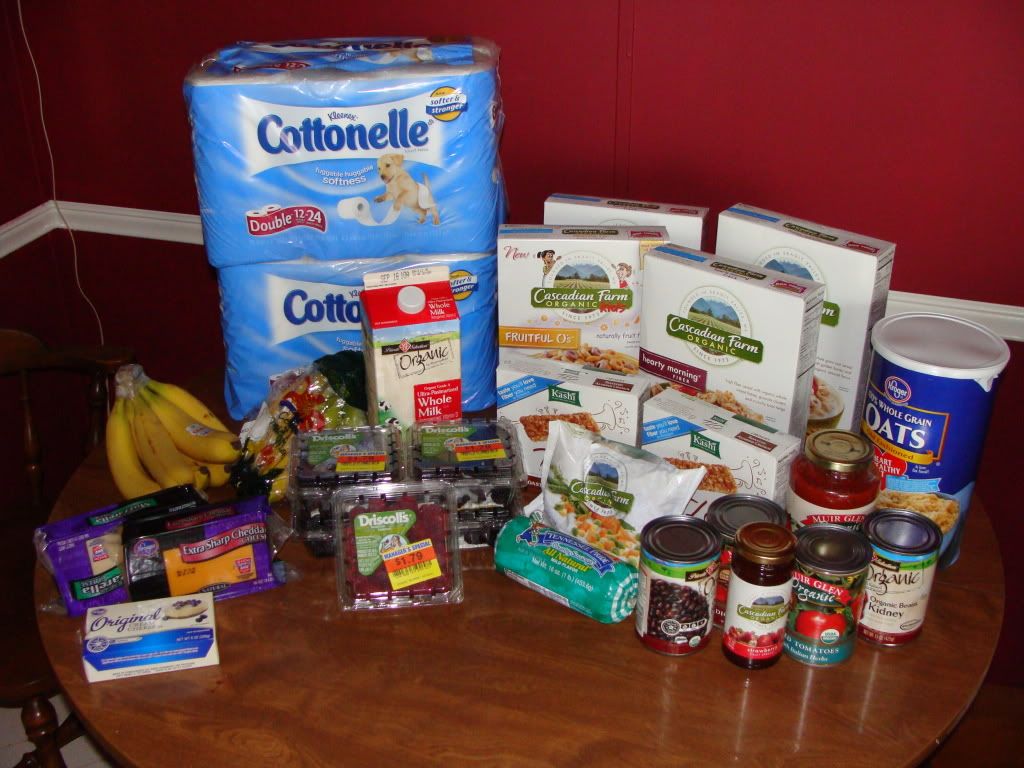 Here's a picture of today's shopping trip. The eight qualifying items I purchased were:
::Two 12-roll packages of Cottonelle double roll TP, for $4.49 each (combined the sale with
this coupon
). This works out to about $0.37 per roll, which I consider a great deal for brand name, double roll toilet paper!
::Two 16oz. packages of Kroger cheese for $2.49 each (a really good price for a pound of cheese)
::4 boxes of Cascadian Farms organic cereals for $1.49-$1.74 each after coupons (coupons.com has a coupon for Cascadian Farms products available now, and some of the cereal boxes have coupons on them as well)
Kroger, through MyBlogSpark, was kind enough to give me a $25 gift card to check out the sale, and they are offering a $25 gift card to one of y'all as well! In order to give you time to check out the sale with your gift card, I'll be ending this giveaway on Wednesday night, August 11.
To enter, just leave a comment on this post telling me you'd like to win!
Here are some ways to earn extra giveaway entries (and
please be sure to leave a separate comment for each one
!):
::Subscribe to the Covenant Homemaking RSS Feed via e-mail or a feed reader.
::Follow me on twitter (@mrsmurch) and tweet about this giveaway with a link to the post (be sure to @mrsmurch in your tweet!).
::Blog about this giveaway and leave a link to your post in your comment.