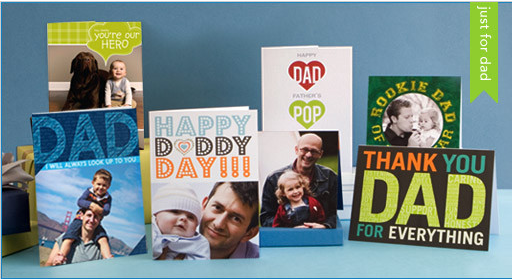 When you like
Tiny Prints
on
facebook
, you'll receive a coupon code for a FREE Father's Day card! If you want to send it directly to the recipient, you just have to pay the cost of postage, but if you have it sent to yourself, it's completely free!
If you have more than one person to send a Father's Day card to, here are a couple more codes you can use to get extra (really cute!) photo cards from
Tiny Prints
for just $0.99:
FDAY99
(good through June 6)
GC99
(good through tomorrow, June 5)
Even $0.99 is a great deal if you're used to paying $4 or so for store-bought cards (like I am!), especially since you can customize them with photos and your own text.
Do you usually buy cards at the store? Do you make your own?
Disclosure: This post contains referral links. Thank you for supporting this site. :)