Today started off really productively (I made it through my morning routine well
before 11
!), but by lunchtime, I was beat! Just keeping up with the children and various things around the house meant a few hours solid of cleaning and being up and around, and I got myself sort of worn out.
So, I took it pretty easy for a few hours. Ben fixed his own lunch and helped the children clean up their toys (reheated leftovers, easy enough!), the kids ate snacks for lunch (cheese, raisins, carrots and dip), and I fixed myself a smoothie later on. It was cold, but I had such a hankering for this
peanut butter smoothie
that I put on a hoodie and had one anyway! And, I uncharacteristically threw
everything
(including larger items I would normally hand-wash to save space)
in the dishwasher so I didn't have much to clean up.
Benjamin never went to sleep at nap-time. I think he's working on teeth, so he nursed and slept some in my arms. Thankfully, at least Katie had a nice, long nap. While Katie was asleep, I did some work and also some research on natural cancer treatments for a friend who was recently diagnosed with cancer.
After sitting for a while, my lower back started hurting, so I decided to do some prenatal yoga to see if the pain would ease up. Unfortunately, it didn't, but I'm still glad I did the exercise. By the time I finished that, Katie was awake, so the children helped me tackle today's assignment, which was pretty simple (thankfully!):
::Remove your couch cushions and clean out any crumbs, toys, or other miscellaneous items you find. Use an attachment on your vacuum to vacuum the cushions, underneath the cushions, and all crevices of your furniture. Spot clean the fabric, if needed.
I also cleaned underneath the sofa and loveseat since that was actually part of yesterday's assignment. I just read the first part about cleaning under the bed and my brain didn't compute the rest. :)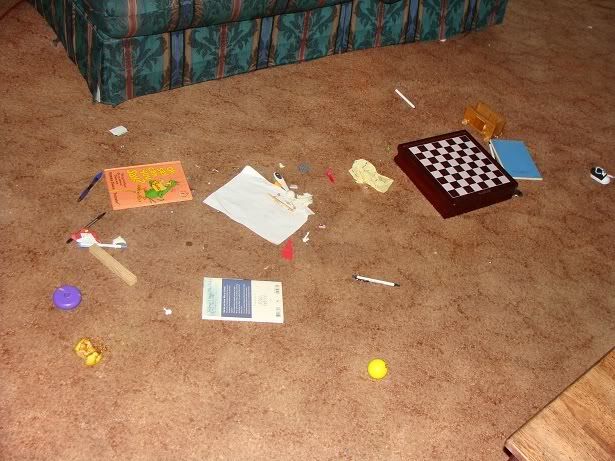 Underneath the sofa--not too awful, except for the age old apple. Yuck!
Underneath the loveseat (the children again fascinated by the rearranged room!)




The last picture is everything I collected from underneath/in the sofa and loveseat. The grocery bag has the trash in it.
It was another productive day, albeit a little more relaxed for this pregnant mama's sake. :)
I've really enjoyed keeping up with the projects this week and I'm looking forward to continuing next week. And, hopefully doing some more "normal" blogging, too!